Description
There are a number of available accessories for the Amigo ACFM instrument, including
An external Encoder Interface to give position feedback for manual ACFM probes.
A Switch pendant to provide remote start/stop/mark facilities.
Encoder Interface Box
Most Single Sensor probes are specifically designed and supplied without a position feedback encoder to allow access to tight areas and difficult to access geometries.
TSC can supply an add-on for these probes to provide encoder position feedback (standard in most multi-sensor probes). This decreases the total inspection time by providing automatic recording of scan distances and defect locations.
The add-on Encoder Interface Box (Type 347) allows an external encoder to interface with any single sensor ACFM probe.
Typically, a magentically-attached wire encoder is used to measure probe movement in a straight line. Other encoder types can be supplied for different applications.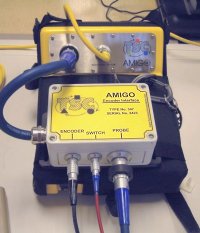 Switch Pendant
The Interface Box (above) also allows the use of a separate Switch Pendant (Type 348) to control scan start/stop and marker functions remotely.
The Switch Pendant is beneficial in environments where the Computer and the Amigo are not accessible during inspection.