Description
MAGNETIC FLUX LEAKAGE ( MFL )
TANK FLOOR INSPECTION SYSTEM
The MFE 2412 Mark II Magnetic Flux Leakage ( MFL ) Tank Floor Scanner represents the first model change in almost eight years of production of the original MFE 2412. Radical design changes have resulted in improvements in all areas not the least of which are the user friendly features of the scanner. By careful re-design of the handle mechanism and relocation of the battery it has been possible to drastically reduce the amount of effort required to operate the scanner despite a significant increase in the power of the magnetic bridge.
The amount of magnetic material has been doubled in the new bridge allowing inspection of thicker plates and through thicker coatings than previously possible. The actual bridge itself has been completely re- designed to provide better protection of the magnetic material.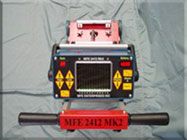 The relocated battery pack now incorporates a super bright white LED light strip which provides just the right amount of illumination in front of the scanner and can be quickly removed from the scanner for charging or for use as a remote light source. As with the original MFE 2412 the battery is capable of powering the system for over 12 hours of continuous use on a single charge.
The electronic processing unit has also been completely re-designed and incorporates a membrane switch panel to control all functions including on/off, gain, alarm, reset and display brightness. The display now incorporates super bright LED's to allow comfortable viewing even in sunlight. The intensity of the display can be adjusted via the switch panel. The electronic processing has been carefully adjusted to provide more gain combined with a much improved signal to noise ratio.
The scanner folds down for transportation in a 28″x19″x18″ container that has both wheels, handles and a keeper plate to allow shipment by air in line with IATA requirements.
In conclusion, the MFE 2412 Mark II is smaller, lighter, easier to use and even more rugged and reliable than it's predecessor.
"Stop On Defect" model available