Description
The U31 instrument is specifically designed for NDT sub-sea deployment by diver or ROV.
The system comprises a topside power and comms unit, a subsea bottle and a subsea probe.
The system utilises advanced windows software developed by TSC which provides immediate and offline data viewing and includes reporting and data archiving.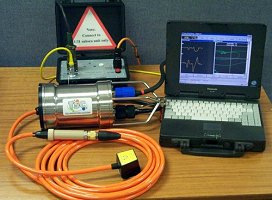 Options
System options for the U31 include:
U31D Diver system for depths up to 300m
U31R Remote Operated Vehicle (ROV) system for depths up to 2000m
Dual-frequency option available for improved underwater sensitivity
Support for multi-channel array probes
Features
Overview
The U31 instrument offers the following:
Rapid weld scanning using hand-held probes.
Area scanning using multi-sensor array probes.
Dual frequency capability:

5kHz (Standard instrument for optimum performance on ferritic steel).
50kHz (Additional option for improved sensitivity particularly on non-ferrous metals).

Access to a wide range of geometries using TSC's range of active topside probes.
Reduced component cleaning requirements with no need to clean to bare metal.
Capable of inspection through thin metallic coatings, or through non-conducting coatings up to 5mm thick.
Windows

TM

 based software for ease of operation and compatibility with other Windows applications.
Comparison
The Model U21 Crack Microgauge is in use around the world for subsea weld inspection. The Model U31 provides all the functionality of the Model U21 but in a significantly smaller package.
The U31 weighs only 4.3Kg in water and has a standard operational depth of 350 metres. In addition TSC offer a specialised system capable of operating at depths up to 2 kilometres.
Specification
Subsea Unit Weight
7.6kg in air

4.3kg in water

Subsea Unit Size
142mm diameter x 260mm
Topside Unit Weight
2.6kg
Topside Unit Size
235mm x 190mm x 110mm
Probe Cable
5m standard

50m maximum (Optional)

Serial Communications Cable
5m standard

30m maximum (Optional)

Umbilical Cable
150m

300m maximum (Optional)

Maximum Operating Depth
300m standard.

2000m for ROV deployment

Array Probe Support
16 channels (8 sensor pairs) plus position encoder
Communications Protocol
U31D – RS232

U31R – RS485

Power Requirements
U31D – 110v AC, 200mA

U31R – +/-12v DC, 0v, 1A

Operating Temperature
-20º to +40ºC
PC Requirements
Pentium processor (200MHz+), 64Mb RAM, 20Mb hard drive, serial port
PC OS Requirements
Microsoft Windows 9x/NT/2000/XP
Deployment
ACFMsystems have been used since 1991 for underwater inspection of offshore platforms, subsea structures and pipelines.
The U31 Underwater ACFM Crack Microgauge is the third generation instrument and represents a significant advance in ACFM subsea inspection technology from the previous U21.
The U31 instrument has all the advantages of ACFM inspection available on other TSC instruments in a small and light package designed specifically for diver and ROV deployment.
Diver Deployment
The diver deployed U31D is a top-side powered instrument, linked to a top-side PC and power supply via a single sub-sea cable. It is equipped with top cage to allow the diver to easily manoeuvre the instrument and provide an anchor point for a retaining rope or cable. The small size, light weight and ease of manoeuvrability translate into great versatility sub-sea and allows the instrument to be deployed from dive stations without the need for cranes or tuggers. The probes and communications cable use wet mateable connectors which allow them to be changed in a wet environment but not underwater.
ROV Deployment
Interface with ROV systems is straightforward. The probe is mounted onto an ROV manipulator and is deployed onto the inspection site. An umbilical is routed from the probe along the manipulator arm to the U31R subsea unit. The subsea unit takes it's power from the ROV and communications to and from the topside control box are via the ROV umbilical. The control box is then connected to a top-side PC running TSC's proprietary software.
Probes
Standard Probes
TSC standard single sensor and multi sensor probes are available for a variety of applications.
These are contained within three categories:
Single Sensor
Used for basic general weld inspection.
Multi Sensor
Used for wide area coverage with encoder and orientation options. Available in array configuration.
Static Array
Used for 'pick & place' manipulator or robotic deployment
Special Application Probes
Probes can be designed and manufactured for use in almost any environment or application.
Probes have recently been produced for clients for use in the following areas:
Radiation hardened probe for nuclear applications.
Probes for marine propellor and propulsor inspection.
'

Pick & Place

' array probes for ROV deployment.
Non-ACFM Probes
The U31 also supports the use of lift-off sensors. This includes probes for measuring marine fouling thickness,insulation thickness and pipe ovality.
Software
ASSISTu
The current generation of underwater ACFM software is the ASSISTu (ACFM Software Suite for the Inspection of STructures Underwater). The original ACFM software, QFMu, for underwater manual probes only, is still available.
The ASSIST family of software has been developed for both portable and desktop PC's running standard Microsoft Windows XP/2000/NT/9x.
ASSISTu provides an easy to use large-button interface particularly suited for portable PC's with touch screens, whilst retaining familiar windows menus if preferred.
Many features and enhancements have been incorporated in this ACFM software, including:
Data collection and display for both manual and array probes.
Display of array probe data in real time.
Ability to display both X field and Y field data with compatible array probes.
Automatic data file naming and intuitive inspection file handling.
Ability to "zoom" in on sections of data for closer examination.
The following ASSIST software packages are available for the AMIGO:
–

Supports all underwater standard probes and all underwater array probes including '

Pick & Place

' facility.
QFMu
An updated version of TSC's user friendly QFM software has been developed specifically for underwater applications. This takes advantage of the major improvements incorporated in the U31.
The U31 operates with TSC's QFMu software to provide a common operating environment with other ACFM products, avoiding the need for retraining of certified operators.
The following QFM software packages are available for the AMIGO:
–

The original software supplied with the U31. Supports standard manual probes only (1 

Bx

 and 1 

Bz

).