Description
The AMIGO instrument is the smallest and lightest ACFM inspection system* available.
TSC has taken advantage of its vast wealth of knowledge and experience to make the AMIGO a wieldy, rugged (rated to IP54) instrument that is an ideal tool for site inspections. Specifically designed to function in a wide range of environments the AMIGO has easy-access cabling and large unobstructed buttons which allow the NDT operator to concentrate on the job of inspection without being distracted by the operation of the instrument.
The complete AMIGO system* utilises software that offers crack data collection, defect sizing, offline viewing and data archiving.
Options
System options for the AMIGO include:
Dual-frequency for non-magnetic material inspection
Support for position-feedback probes
Support for multi-channel array probes
Related Products
To complement the AMIGO system, TSC offer a wide range of array and single coil probes for use in hazardous environments and specialised applications. For further details click here.
---
The Amigo is used primarily for land based inspection but can be used with sub-sea probes in shallow water (up to 50m depth). For example ships propeller blades. For comprehensive sub sea inspection, the U31 ACFM system provides a complete solution. (See the separate product listing)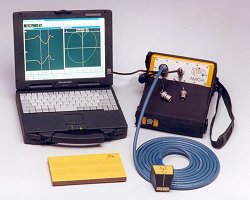 *A complete AMIGO systems comprises : AMIGO Instrument; Comms Cable; Probe; Rugged Laptop**; Software.
** Available on request.
Overview
The AMIGO instrument offers the following:
Rugged site unit, rated to 

IP54

.
Reliable crack detection and sizing (length and depth).
Quick change battery pack capable of approximately 10 hours operation on a single charge.
Reduced component cleaning requirements with no need to clean to bare metal.
Capable of inspection through thin metallic coatings, or through non-conducting coatings up to 10mm thick.
Buttons for RUN / STOP and MARKERS on the instrument. Optionally available on larger probes enabling one man operation in difficult access areas.
Dual frequency capability:

5kHz (Standard instrument for optimum performance on ferritic steel).
50kHz (Additional option for improved sensitivity particularly on non-ferrous metals).

Access to a wide range of geometries using TSC's range of active topside probes.
Intelligent probes to simplify operation.
Rapid area scanning using multi-sensor array probes.
Windows

TM

 based software for ease of operation and compatibility with other Windows applications.
Comparison
The AMIGO instrument has all the advantages of ACFM inspection available on previous TSC site instruments, but in a smaller, lighter package and a longer battery life.
Versatility is further increased with the added benefit of support for array probes.
Specification
Unit Weight
4.5kg
Unit Size
206mm x 292mm x 127mm
Probe Cable Length
5m standard 50m maximum (Optional)
Serial Communications Cable
5m standard 30m maximum (Optional)
Array Probe Support
32 channels plus position encoder
Power Requirements
Internal battery or 110 – 240v AC, 50 – 60 Hz
Operating Temperature
-20º to +40ºC
Environment Protection

IP54

 rated
Minimum PC Requirements
Processor 500MHz, 128Mb RAM, 40Mb hard drive, serial port or one free USB port
PC OS Requirements
Microsoft Windows NT/2000/XP
Deployment
The small size, weight and long battery life of the AMIGO makes the instrument ideal for use in the field.
Together with a rugged notebook PC, inspection can be carried out in almost any location.
The AMIGO can be carried by shoulder strap or worn on a belt.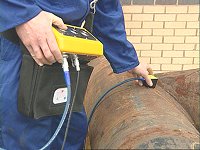 RS232 communications between the AMIGO and notebook PC are available in lengths of up to 30 metres as standard – longer cables are available on request making the system ideal for use where the ACFM operator has to be remote from the probe operator. This is particularly useful in abseiling situations, work from cranes and cherry pickers, confined spaces or hazardous environments.
Probes are available for virtually any application either manually deployed or specially designed for automated or robotic deployment.
Probes
Standard Probes
TSC standard probes are available for a wide range of applications and for use on flat or cylindrical surfaces.
There are four standard probe categories:
Single Sensor
Used for basic general weld inspection. Add-on external encoder option also available.
Multi Sensor
Used for wide area coverage with encoder and orientation options. Available in array and non-array configurations.
High Temperature
Used for continuous contact at up to 500°C.
Underwater
Used for water depths up to 40m.
Special Application Probes
Probes can be designed and manufactured for use in almost any environment or application. Special designs can be produced for more complex geometries, such as threads, turbine roots, lap welds etc.
Probes have recently been produced for clients for use in the following areas:
Radiation hardened probe for nuclear applications.
Contoured array probe for boiler wall inspection.
Contoured array probe for turbine blade root inspection.
Non-ACFM Probes
The AMIGO also supports the use of lift-off sensors. This includes probes for measuring marine fouling thickness, insulation thickness and pipe ovality.
Software
ASSIST Family
ASSIST is available in three variants, ASSIST, ASSIST Lite and ASSISTant. The original ACFM software, QFM, for standard manual probes only, is still available.
The ASSIST family of software has been developed for both portable and desktop PC's running standard Microsoft Windows XP/2000/NT/9x.
All variants of ASSIST provide an easy to use large-button interface particularly suited for portable PC's with touch screens, whilst retaining familiar windows menus if preferred.
Many features and enhancements have been incorporated into the software, including:
Real time data collection and display for both manual and array probes.
Ability to display both X field and Y field data with compatible array probes.
Automatic data file naming and intuitive inspection file handling.
Ability to "zoom" in on sections of data for closer examination.
The following ASSIST software packages are available for the AMIGO:
| | | |
| --- | --- | --- |
| | – | Supports all standard and all array probes. |
| | – | Supports all standard probes and arrays of up to 3 rows, with or without encoders. |
| | – | Supports standard manual probes only (1 Bx and 1 Bz). |
QFM
An updated version of TSC's user-friendly QFM software takes advantage of the major improvements incorporated in the AMIGO. This version retains the look and feel of earlier versions to avoid the need for retraining of certified operators.
ASSISTant is now available in place of QFM3 for new AMIGO customers, or can be purchased as a low-cost upgrade for existing AMIGO customers.
The following QFM software packages are available for the AMIGO:
| | | |
| --- | --- | --- |
| | – | The original software supplied with the AMIGO. Supports standard manual probes only (1 Bx and 1 Bz). |
Approvals
The ACFM technique has been accepted by major organisations in the Oil and Gas, Petrochemical, Nuclear and Aerospace Industries. Approvals take different forms, they are issued by the asset owner, insurance companies or certification bodies.
For the Oil and Gas Industries a number of the certifying authorities have either been involved directly, or reviewed, the large amount of performance data, and have approved the use of ACFM.
ACFM has been approved by Lloyds, ABS, BV, DNV, and OCB Germanischer Lloyd for the inspection of offshore installations. In the case of Lloyds and ABS they have not issued formal approval certificates, but simply approve on a case by case basis.
In addition to these, documents of recommended practice (or procedures for use) for (or including) ACFM have been issued by ASTM (E2261-03), ABS (Guide for Nondestructive Inspection of Hull Welds, September 2002 edition) and COFREND (Recommendation pour le controle des soudures par la mesure du champ d'un courant alternatif, July 2003) and are being produced by ASNT and ASME.
Click Here for More Information