Description
The Automated Thread Inspection (ATI) system allows drill string NDT inspection with little need for cleaning.
The system provides automated defect detection and sizing with full results audit and review using windows software.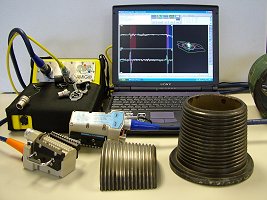 Options
System options for the ATI system include:
Box, pin and general purpose inspection probes.
Support for a wide variety of drillstring sizes.
Lightweight rugged instrument.
Features
Overview
ATI offers the following features:
Detect, locate and size defects.
Pass/Fail reporting for each pin or box inspected.
Reduced cleaning requirement prior to inspection.
Operation under any lighting conditions.
Light-weight hand-held probes.
Support for shift-based operations on a time independent basis.
Inspection report generation including per scan and per shift reports.
Data permanently stored and available for audit.
Reduced drillstring handling requirements.
Components can be inspected in both vertical and horizontal orientations.
Can be used on both steel and non-magnetic components.
Comparison
ATI provides a replacement for conventional MPI and penetrant testing methods for drillstrings threads. The easy to deploy hand-held probes can be used in any lighting or weather conditions. The simple PASS/FAIL reporting removes operator variability and provides auditable results.
Specification
| | |
| --- | --- |
| Unit Weight | 5 Kg |
| Unit Size | 206mm x 292mm x 127mm |
| Probe Cable Length | 20 metres maximum |
| Serial Communications   Cable | 30 metres |
| Array Probe Support | 32 channels plus position encoder |
| Power Requirements | (110v-240v AC, 50-60 Hz) Battery powered |
| Operating Temperature | -20º to +40ºC |
| Environment Protection | IP54 rated |
| Minimum PC Requirements | Pentium processor (200MHz+), 64Mb RAM, 40Mb hard drive, serial port |
| PC OS Requirements | Microsoft Windows NT/2000/ME/XP |
Deployment
The ATI system has been shown to have significant benefits in terms of inspection reliability over conventional visual techniques.
This means the likelihood of putting cracked components downhole is reduced.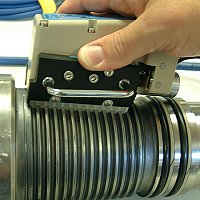 The standard system covers 4
tpi
 threads in the size range from NC38 upwards using a basic skeleton array probe and a range of adaptors in both box and pin. Additional adaptors or probes for use with other threads can also be produced as required by the customer.
ATI is a versatile system. Inspection can be carried out either in the open on platform pipe racks or in storage yards. Probes are IP54 rated, and for use in harsh environments and adverse weather conditions, a rugged laptop PC is used. Providing there is access to the pin and box ends, the probes can be deployed both horizontally and vertically.
Probes
Standard Probes
TSC standard ATI probes cover a wide range of common drillstring connection sizes. The probes are designed to inspect both pin and box threads on the drillstring through the use of interchangeable adaptors of various genders and sizes.
Each array probe is restricted to use on one thread pitch (e.g. 4 tpi, 5tpi) but can inspect a range of different thread profiles.
Standard probes operate at 5kHz and are suitable for use on ferritic steel components. For non-magnetic components (inconel, stainless steel etc.) high frequency probes are available to provide improved sensitivity.
Software
ATI Software
TSC has developed advanced ASSIST software for the ATI system. The software provides automated defect detection and sizing leading to simple Pass/Fail results and automated inspection reports.
The ATI software package has been developed to run on portable and desktop PC's running Microsoft Windows XP/2000/NT.
The ATI system has been designed to reduce the requirement for skilled operators and to allow drillstring thread inspection data to be available for audit. One of the key features of the ATI system is its ability to detect, locate and size defects without the need for operator interpretation. This is achieved by the use of advanced software, which analyses the inspection data automatically.
The following software products are available:
| | | |
| --- | --- | --- |
| | – | Supports all currently available ATI system probes. |